LED GROW LIGHTS – EUROPE / AUSTRIA
What makes SURYA°


Led Grow Lights so efficient?
Optimized Spektra for vegetation, flowering, full spectrum, high energy efficiency and protection classes with high-quality components ensure reliability, longevity and highest economic efficiency. The Spektra optimized for our LED grow lamps also ensure higher biomass yields and fruit weight with a more intense taste and more valuable ingredients.
The energy-efficient Surya VEG LED TUBE Grow Lights are ideal for shelf installations and vertical farming.
From seed rearing to cloning, rooting and vegetation.
The Surya VARIO COB LED Grow Lights with the switchable TRI spectrum lets you choose the spectrum of vegetation, flowering and universal full spectrum applications. Great for a variety of different applications.
Available spectra
The right spectrum for your application: Whether pure vegetation spectrum with Deep Blue components – TRI Spectrum from vegetation to bloom and Full Spectrum – or the extensive SX spectrum for individual applications with UV and infrared light components. You need help with the selection? Learn more here …
VEG, TRI
OPTIMIZED SPECTRA
Surya offers you 2 extensive main spectra optimized for different purposes. The VEG spectrum was developed for pure vegetation applications. The switchable TRI range is suitable from seed to harvest and advanced users.
Surya Research
Which plants need which light intensity?
Studies have shown that color spectra and light intensities adjusted for different plant types and growth phases provide the best results. Which light intensities are preferred by which plant species, you can find out here …
SURYA LED Grow Lights Austria stands for quality, longevity, reliability and
high quality components on the pulse of the time.
Quality
CERTIFIED COMPONENTS
Surya LED Grow Lights are regularly subjected to strict quality controls to ensure maximum reliability and efficiency.
Guarantee
3 YEARS GUARANTEE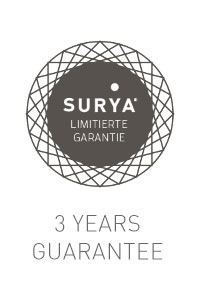 Durability
DURABLE & RELIABLE
For up to 50,000 operating hours, at least 90% luminosity is retained. From 50.000h  a max color shift of 20% can occur.